Fall Lecture: Nadine Farid Johnson, Book Banning in the United States and Abroad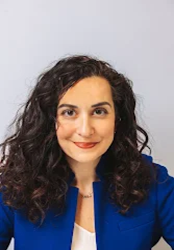 Nadine Farid Johnson, Book Banning in the United States and Abroad
October 13
1:30-2:30 PM
In-Person at OLLI
Nadine Farid Johnson is Managing Director of PEN America Washington and Free Expression Programs. She spearheads PEN America's engagement with the US government on free expression issues in the US and around the globe, focusing on foreign policy, tech policy, privacy, and educational censorship. She is the co-author of PEN America's seminal report on school book bans, "Banned in the USA: The Growing Movement to Censor Books in Schools" (2022). She is also co-author of PEN America's "Speech in the Machine: Generative AI's Implications for Free Expression" (2023). Her commentary has appeared in The New York Times, The Wall Street Journal, The Atlantic, and other publications, and she has appeared on outlets including PBS and CNN International.
Nadine is a former US diplomat, served as the executive director of the ACLU of Kansas, was previously a professor of law at Gonzaga University, and was a Climenko Fellow and Lecturer on Law at Harvard Law School.
She worked as a patent litigator and later at Google in Los Angeles. She is a graduate of DePauw University and Tulane Law School and studied at the US Naval War College.
Reservations are required to attend in-person lectures. In-person lectures will be held in the Spring Valley Building, 4801 Massachusetts Ave. NW, in Room A on the First Floor. Registration for the above lecture will open here at 10:00 AM on the Friday prior to the lecture. The direct registration link will also be included in the Friday newsletter the week prior. You must have an OLLI account to register. If you do not have one, you can create an account when going to register. Each registrant may reserve one seat. Your name must be on the list of registrants to enter the lecture and you must be in your seat five minutes before the lecture starts to guarantee your seat.