Parking
Parking at OLLI at AU and AU's Good Neghbor Policy
Where Should I Park?
How Do I Pay?
Are There Handicapped-Designated Parking Spaces?
Parking for Study Group Leaders
Parking general information
As an affiliate of American University, all OLLI members must follow American University's Good Neighbor Policy:
In accordance with Washington DC regulations and the University's "Good Neighbor Policy," all members of the University community – including students, faculty, staff, visitors and guests – are required to do one of the following while attending class, working, or visiting AU owned property .
A. Park on campus and obtain a parking permit (this option is not currently available to OLLI members),
B. Purchase hourly/daily parking using the pay-as-you-go parking kiosks, or
C. Use public transportation.
Compliance with the Good Neighbor Policy is part of the OLLI lease with American University.
This policy applies to ALL members, including those who have DC Zone 3 parking permits.
What are the consequences of not following the "GOOD NEIGHBOR POLICY?"
Members who do not follow AU's "Good Neighbor Policy" risk getting a $200 parking ticket from American University, but most importantly, they put OLLI at risk of violating its lease agreement with American University.
Where should I park?
Use the AU garage at 4801 Massachusetts Ave. NW
See the map below indicating the entrance to the parking garage at 4801 Massachusetts Ave. NW.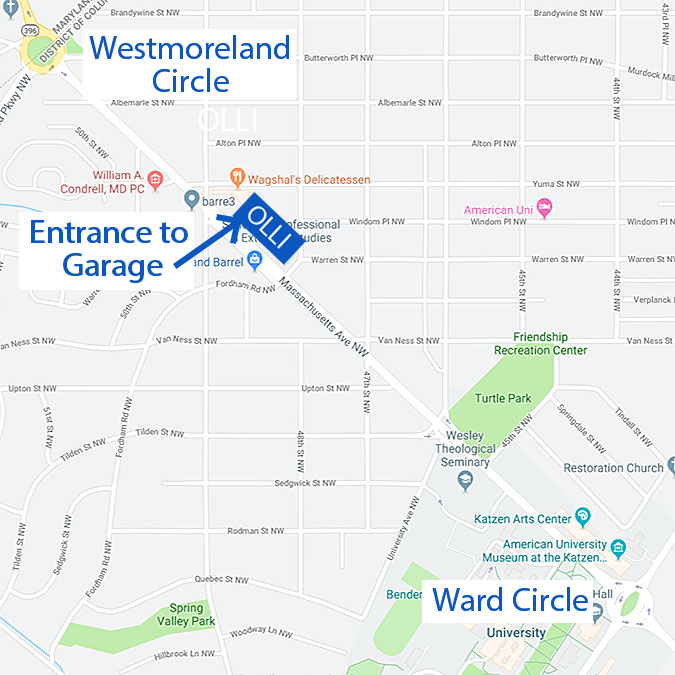 May I park in the residential area surrounding the school?
No. Please see AU's Good Neighbor Policy above.
May I park at parking meters in the area?
We have been advised by the University that "Parking at the meters does not comport to the spirit and intent of the DC Zoning Order nor the Good Neighbor Policy and will result in complaints from neighbors and business owners." AU cannot impose parking tickets on vehicles parked at meters. Only DC Parking Enforcement can ticket at meters.
May I park at surrounding lots in the area?
There are parking lots on the other side of Massachusetts Ave. for which you can pay to park.
May I park in the (old SuperFresh) parking lot behind 4801?
No. This parking lot is designated for AU faculty, staff, and contractors only.
How Do I Pay?
There are no parking attendants in the garage.
Parking spaces are shared by other visitors to the building.
Payment must be made at kiosks or through the PayByPhone app BEFORE a class or lecture.
Kiosks are located in the lobby of each of the three levels of the garage. You must enter your license plate number in the kiosk. The kiosks accept cash ($1 or $5 bills) or credit cards. Kiosks do not give change. You do not need to put the receipt into your car after paying. Do keep it just in case you are issued a ticket incorrectly.
Visit the web page on the PayByPhone parking app for information on how to download and use the app. If you need assistance, stop by the OLLI office and a staff person will assist you.


Are there handicapped-designated parking spaces?
There are a number of handicapped-designated parking spaces available on a first come, first-served basis on each level of the garage.
parking for study group leaders
OLLI subsidizes the cost of parking for SGLs.