Directions
See the map below for our main location at 4801 Massachusetts Ave. NW. Read about parking options and the AU shuttle on our Parking & Shuttle page.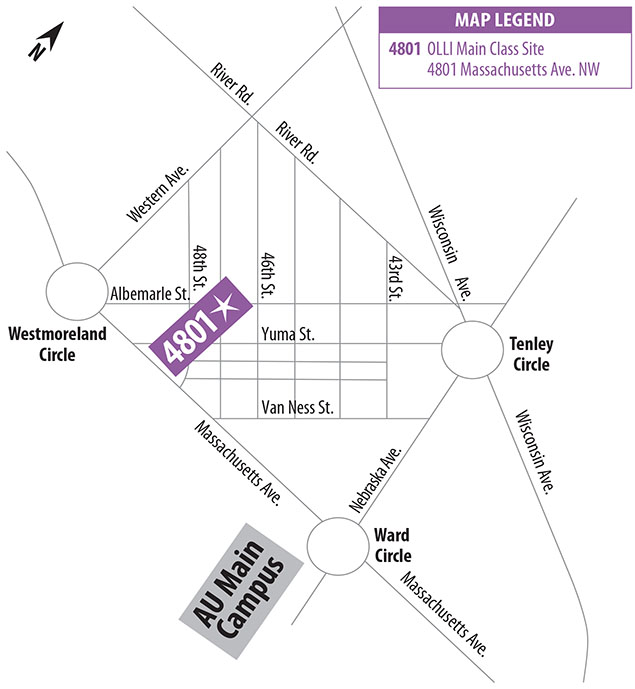 AU SHUTTLE
The AU shuttle buses are kneeling buses and are handicapped accessible.
Traveling to and from the Spring Valley Building (SVB) at 4801 Massachusetts Ave. NW
There are free, open-to-the-public AU shuttles (Red Route Express) that run from the Tenley Metro station to the Spring Valley Building, 4801 Massachusetts Ave. NW. They have "SVB" (Spring Valley Building) listed in the display above the windshield.
The Red Route Express shuttle runs every 15 minutes from 7:00 AM - 6:35 PM and stops at the Katzen Center on the way to OLLI. Visit AU's Shuttle Services website to view more information about the shuttle, including a map of the Red Route.
The shuttles drop riders off across the street from SVB at the Metro stop in front of Crate and Barrel. To return to the Katzen Center Garage or the Metro, catch the shuttle at the same spot.
For further information or questions on the shuttle, call AU Transportation Operations & Maintenance at 202-885-3111 or email [email protected].
PUBLIC TRANSPORTATION
What public transportation is available?
The N4 Metro bus runs along Massachusetts Avenue traveling from downtown DC toward Friendship Heights, MD and vice versa, stopping directly across from 4801 Massachusetts Ave. NW, OLLI's Home site. Refer to wmata.com for the N4 schedule or other public transit information.
Carpool
Save time and money by arranging to carpool with one or more members who may be taking classes at the same time as you.
Car services
Car services like UBER and Lyft are reliable and convenient car services to use. Applications for these services can be downloaded to your smartphone. If you live in the area of 4801 Massachusetts Avenue (zone 3), these options can save time and, if shared with other members, can save money.
Biking to OLLI
Bike racks are located on parking level C1 and to the left of the front doors to 4801 Massachusetts Ave. NW.